Mobile Dental Clinic
We provide a free service to patients with our mobile dental van outreach to the community. During these visits we screen patients for oral diseases including cavities, periodontal disease, and oral cancer. Patients may need a dental extraction for relief of a painful tooth abscess or a cavity filled during this visit. More extensive needs can be met at our Spring Hill dental office. Sometimes we are able to provide teeth cleanings. Sponsorship of our mission is very helpful to keep the outreach free to the patients.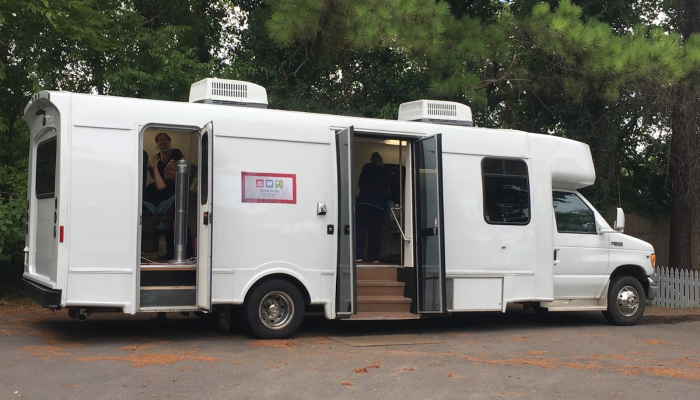 Dental Office
At our Spring Hill dental office we provide scheduled, non-emergency dental care and oral health education to low-income, uninsured residents of Middle Tennessee.
The target population we serve lives or works in Maury, Williamson, Davidson, or Hickman counties.
We use a sliding scale fee to determine patient contribution. We have provided free services but generally expect patients to contribute something to the cost of the services unless they have received sponsorship. Preference is given to individuals with family household income below 250% FPL.
Our patients come to us mostly from our dental van missions and referrals from local dentists and community organizations. We utilize an online eligibility screening tool.
Unfortunately our resources are limited and we are unable to provide service to every patient that qualifies.
We are unable to provide regular maintenance dental care because of our limited resources.
Services We Can Provide:
Comprehensive dental exam
Digital oral X-rays, including full mouth Panorex imaging
Oral cancer screenings and oral health education
Extractions, including some wisdom teeth
Fillings with tooth white composite or amalgam
Smile restorations
SDF treatments
Dentures and partials
Crowns
Root canals
Nitrous oxide sedation - limited
What We Do